---
Walter Crane Biography
Walter Crane (August 15, 1845 in Liverpool - March 14, 1915) was a major British artist, as well as an art theorist, designer, writer and committed socialist. He is best known as an illustrator, as well as an avid promoter of the Decorative Arts. A prolific artist, Crane's work encompasses illustration, painting, ceramics, wallpaper design, upholstery, and many other fields.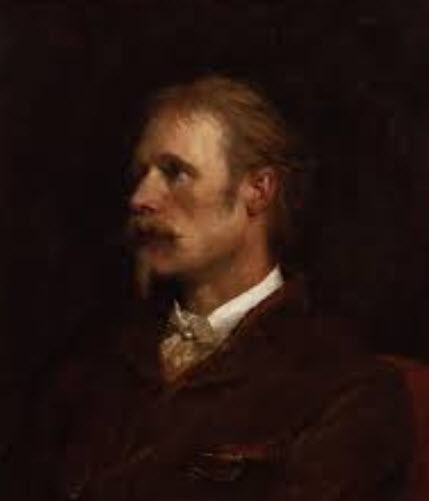 Crane was the second oldest son of Thomas Crane, a noted portrait painter and miniaturist. His brother Thomas Crane, Jr. would also go become an illustrator, and his sister Lucy Crane was a minor writer.
As a teenager, Walter Crane was apprenticed to the engraver from 1859 to 1862 where he learned the craft of illustrating books.
He was initially influenced by the Pre-Raphaelite painting movement, and was later collaborator and disciple of William Morris as part of the Arts and Crafts Movement. Crane is considered one of the pioneers of the Art Nouveau movement.
After his apprenticeship, Crane took on many commissions as an illustrator and eventually joined forces with the printer Edmund Evans to produce several children's books. He became one of the most noted children's book illustrators of his era, and along with Randolph Caldecott and Kate Greenaway helped develop the child in the nursery motif which was popular during the late Victorian era. Crane's illustrations stood out from the usually low quality drawings in children's books of the time, and helped revolutionize the field of children's books. His style was much imitated by other illustrators.
Although Crane was a multi talented artist who worked in many mediums, he is best known for his illustrations of children's books, among which we can mention The Frog Prince, Beauty and the Beast, The Sleeping Beauty, Little Red Riding Hood, Puss in Boots, Bluebeard, Jack and the plant bean, Princess Belle Etoile and The Robber Bridegroom. He has also created graphic works, watercolors, posters, designs for fabrics, wallpaper, tapestries, rugs, stained glass and jewelry. Among the most important paintings it is possible to mention the portrait of his wife Mary Frances (1882) kept at the Orsay Museum in Paris, and Horses of Neptune (1892) kept at the Neue Pinakothek in Monaco.
A meeting with the author and socialist activist William Morris led to a lifelong friendship and collaboration between the two men, not only in the field of art but in their mutual commitment to the cause of socialism. In addition to his artistic endeavors, Crane devoted a lot of his time, artwork and writing to promoting socialism. Many iconic images associated with international socialism were designed by Walter Crane.
On a tour of the United States, Crane became embroiled in a controversy when he spoke in favor of clemency for those socialist anarchists who had been sentenced to death in connection with the Haymarket Affair. His public stance caused a scandal among the well to do patrons of the arts, and many of his speaking engagements and dinners organized in his honor were canceled.
After his tour of the United States, he was hired in 1893-1896 as a part-time as Director of Design at the Manchester School of Art, and became director of the Royal College of Art from 1897 to 1898. His status as an artist as well as a teacher helped develop and promote the Arts and Crafts Movement and the growth of Art Nouveau. His style is sometimes compared to that of another pioneer of the Art Nouveau movement, Eugène Grasset.
In 1871 he married Mary Frances Andrews. Mrs. Crane committed suicide on December 19, 1909 by throwing herself in front of a train. A coroner's jury returned a verdict of temporary insanity. Walter Crane died a few years later and was survived by three children.
---